The Working Girl's Guide: The Full WG Trend Recap
#FREETHENIPPLES
Photo Credit: Google Images
If you are apart of the #ittybitty team, this trend was not a trend but a way of time. I mean unless its a La Perla lace bra or vintage Christian Dior set under a sheer top, we don't want it. Now ladies, remember we are not Rihanna so do not try to pull that top look off but don't be ashamed or uncomfortable in those wire devils for no one.
"The Sporty Chic Styles"
Photo Credit: Google Images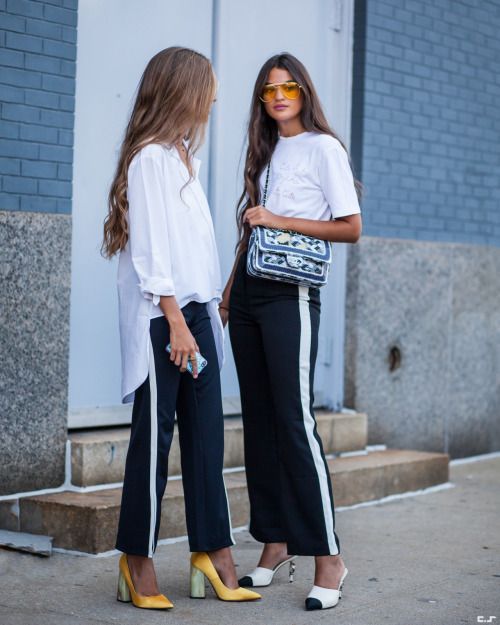 For the lazy Working Gals, the ones that wear heels everyday & on a Saturday just want to relax but still look cute, this is for you. We are for sure keeping this trend, any excuse to wear sweat pants & still look cute is a right move for any SIMP girl.
"Skirts & Dress Over Pants"
Photo Credit: Google Images
This trend is actually pretty dope. Confession Time, the first time I actually wore this trend was in Elementary School. For the Catholic School gals or just the gals that wore uniforms all of your life, you know wearing pants under your skirts or jumpers was a thing. Fast forward to 2017, I am still feeling this and because of this, let's bring this trend to 2018.
"Pajama Chic
Photo Credit: Google Images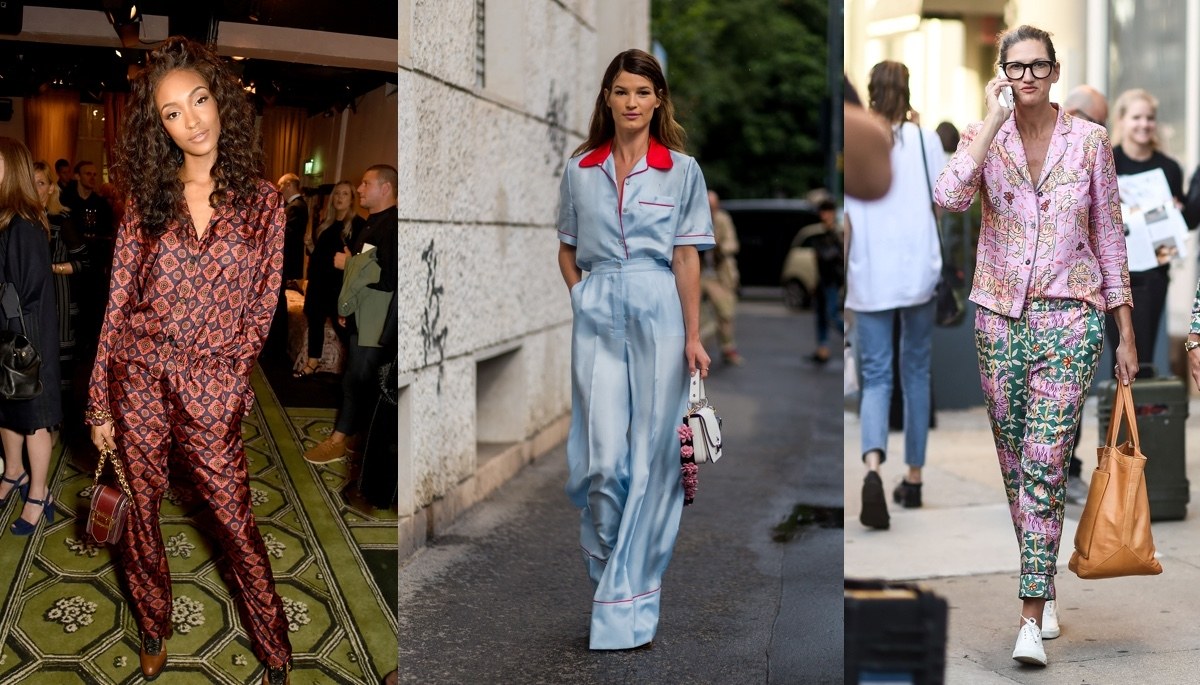 This is where Fashion gets tricky. I was always told, taught & yelled at to instill into my head, pajamas were not meant to wear outside BUT this trend is so cute. I think I just may ignore my dear ol' grandmother for this one. Whether we are taking this trend into the new year or not, let us know what you think !
The Colorful Suit Trend
Photo Credit: Google Images
... THIS STAYS FOREVER ! Conversation over. No matter what field you are in, every women needs a power suit. These colorful suit may not be interview appropriate but it is for sure a staple in the closet for any day in the office.
"Ankle Boot Trends"
(The Sparkle , Knife , Red, Sock or White Boot)
Photo Credit: Google Images
What girl, especially us Working Girls, doesn't love a Ankle Boot. This is the perfect look for absolutely everything. We are taking this look no matter what. SIMP advice, let's take all of the boots except the Sparkle ones.
"The Bomber Jacket Craze"
I mean let's face it, Bomber Jackets were sooo in this year. Whether it was oversized, fitted, lined or not lined, we kind of bleed this trend. We turned a WG Weekend Look into a WG Work Look, we just a little obsessed with the Bomber. Should we leave this look ... well SIMP says NO, just leave in for the Fall. Let's see what new colors and patterns our favorite boutiques come out with. Or maybe SIMP will start a line.....
"The Choker Trend"
We even did a article on this. We were loving the Choker trend. We even found a way to bring this trend to work by opting out the Leather Chokers to the more Jeweled versions. Well sorry ladies, let's leave this trend in 2017. We resurrected it from the 90s & maybe in 2020 it will be literally metal collars, but in 2018.. LET IT GOO ( Frozen theme song)
"The Corset Trend"
You see, I don't know who to blame for this trend. Deep down I want to blame the Kardashians but honestly, I don't think they are the sole reason. However, I can't remember seeing this tend on any runways prior to it coming out. With this being said, this was cool & all but its over now.
The "Off the Shoulder" Trend / The New Oxford
I'm guilty, we are all guilty. I wore this trend & I was so obsessed with it. If you are short hair WG like me, this look is absolutely perfect. It shows off your neck & shoulders. I mean this is one trend I would be sad to see go but hey it just may. Again, let's see what our fast retailer put together for next Spring/Summer.